Backyards, patios, and swimming pools are where friends, family, and the community gather. But over time, wear and tear on outdoor furniture can be unsightly and cause even more damage. Replacing these items can cost valuable time and money. Don't replace it; repair it with New Again.
We're an outdoor furniture restoration company proudly serving clients throughout the Kansas City metro and the Midwest.
New Again offers vinyl strap replacement, mesh sling replacement, and powder coat finishing in a wide variety of designer colors at an affordable price.
Here's our frequently asked questions about the ordering process.
We can repair a variety of outdoor furniture with our vinyl strap replacement, mesh sling replacement, and durable powder coat refinishing services.
The process can vary depending on the order size, capacity, and timeline. We're happy to accommodate and work with our customers based on their needs.
We pride ourselves on offering our clients choices. Each customer works closely with our design team to ensure that there's color consistency – or close to it.
De Soto Parks and Recreation is grateful to have found New Again to re-strap our aquatic center lounge chairs. They were able to save us both time and money. Their customer service and workmanship were great.
We are very pleased with the service we received from New Again Furniture. We had several of our pool chairs re-strapped and they now look brand new. The staff at New Again is very courteous and walked me through the process step by step. We were so pleased with the results that we entered into a multi-year deal with them.
We were very pleased with the restoration work done by New Again on the pool side furniture for our neighborhood swimming pool. We were able to get the furniture looking great again for much less than buying new pieces. The work was done promptly and having them pick up the chairs and do the repairs at their shop was a plus.
While our office is located in Tonganoxie, KS, we help residential and commercial clients from all over the Kansas City metro.
We also offer convenient pick up and delivery of your furniture to make the patio repair process a breeze.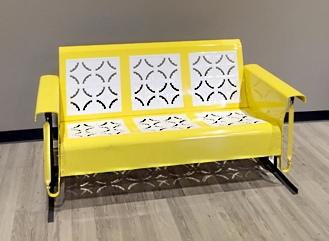 Repair your outdoor patio furniture with the professionals at New Again. Request a quote today.